Mission Impossible7: I don't know how Tom Cruise survive his stunts-Simon Pegg
Simon Pegg has revealed how scary it is watching his co actor Tom Cruise perform his amazing death defying stunts.
The 58 year old actor's willingness and Zeal to please his fans is so amazing, Simon said that each stars fear whenever cruise display his stunts and doubt whether he will survive.
In an interview with Conan O'Brien via the Team Coco YouTube channel, Simon Pregg said "When you watch the movie and you see him do the stunts, and it's nail-biting and there's a real sense of genuine kind of peril and you know that it's him. But you know he survived because he was on Good Morning America that morning and he did some press. When we watch him do it, we have no idea if he's going to survive. So he rides a bike off a cliff, and everybody's just waiting for, 'Good canopy, good canopy, anybody?' It's terrifying".
Pegg added that Tom Cruise is showing no sign of slowing down, he takes on stunt that people half of his age will find it very difficult to do. He admitted. that cruise is currently taking things to the next level.
Due to the impact of Cod-vid 19 mission impossible 7 release date has been moved to November 2021.
Sean Connery who played James bond dies at 90
Sean Connery who played James bond dies at 90
The multi-award-winning Scots actor was best known for defining James Bond, and was the first to bring the role to the big screen.
He appeared in seven of the spy movies, and was knighted by the Queen at Holyrood Palace in 2000.
The tall, handsome and muscular Scottish actor Sean Connery is best known for being the original actor to portray the character of James Bond in the hugely successful movie franchise, starring in seven films between 1962 and 1983. Some believed that such a career-defining role might leave him unable to escape it, but he proved the doubters wrong, becoming one of the most notable film actors of his generation, with a host of great movies to his name. This arguably culminated in his greatest acclaim in 1988, when Connery won the Academy Award for Best Supporting Actor for his role as an Irish cop in The Untouchables (1987), stealing the thunder from the movie's principal star Kevin Costner. Connery has been polled as "The Greatest Living Scot" and "Scotland's Greatest Living National Treasure". In 1989, he was proclaimed "Sexiest Man Alive" by People magazine, and in 1999, at age 69, he was voted "Sexiest Man of the Century".
Thomas Sean Connery was born on August 25, 1930 in Fountainbridge, Edinburgh. His mother, Euphamia C. Maclean, was a cleaning lady, and his father, Joseph Connery, was a factory worker and truck driver. He also has a brother named Neil Connery, who works as a plasterer in Edinburgh. He is of Irish and Scottish descent. Before going into acting, Sean had many different jobs, such as a milkman, lorry driver, a laborer, artist's model for the Edinburgh College of Art, coffin polisher and bodybuilder. He also joined the Royal Navy, but was later discharged because of medical problems. At the age of 23, he had a choice between becoming a professional footballer or an actor, and even though he showed much promise in the sport, he chose acting and said it was one of his more intelligent moves.
No Road Back (1957) was Sean's first major movie role, and it was followed by several made-for-TV movies such as ITV Television Playhouse: Anna Christie (1957), Macbeth (1961) and Anna Karenina (1961) as well as guest appearances on TV series, and also films such as Hell Drivers (1957), Another Time, Another Place (1958), Darby O'Gill and the Little People (1959) and The Frightened City (1961). In 1962 he appeared in The Longest Day (1962) with a host of other stars.
His big breakthrough came in 1962 when he landed the role of secret agent James Bond in Dr. No (1962). He played James Bond in six more films: From Russia with Love (1963), Goldfinger (1964), Thunderball (1965), You Only Live Twice (1967), Diamonds Are Forever (1971) and Never Say Never Again (1983).
After and during the success of the Bond films he has maintained a successful career as an actor and has appeared in films, including Alfred Hitchcock's Marnie (1964), The Hill (1965), Murder on the Orient Express (1974), The Man Who Would Be King (1975), The Wind and the Lion (1975), Time Bandits (1981), Highlander (1986), The Name of the Rose (1986), Indiana Jones and the Last Crusade (1989), The Hunt for Red October (1990), Rising Sun (1993), The Rock (1996), Finding Forrester (2000) and The League of Extraordinary Gentlemen (2003).
Sean married actress Diane Cilento in 1962 and they had a son, Jason Connery, born on January 11, 1963. The couple separated in February 1971 and divorced 2½ years later. Sean then dated Jill St. John, Lana Wood, Magda Konopka and Carole Mallory. In 1975 he married Micheline Roquebrune and they have stayed married, despite Sean's well-documented love affair with Lynsey de Paul in the late '80s. Sean has three stepchildren through his marriage to Micheline. He is also a grandfather. His son, Jason and his ex-wife, actress Mia Sara had a son, Dashiell Connery, in 1997.
He will be missed.
Wizkid releases his long awaited album "Made in Lagos"
Wizkid releases his long awaited album "Made in Lagos"
Ayodeji Ibrahim Balogun, known professionally as Wizkid, is a Nigerian singer and songwriter.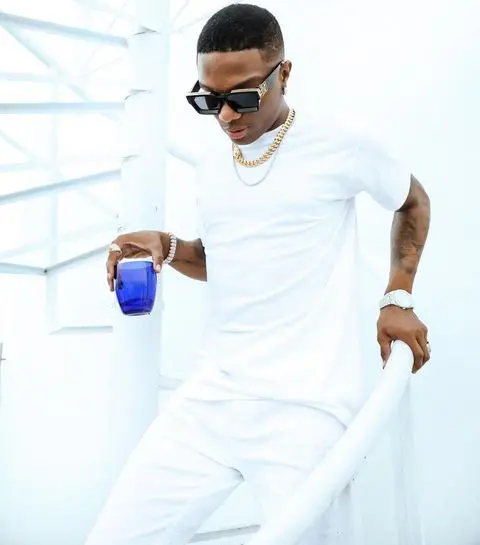 As we all knew it, Wizkid long anticipated album titled "Made in Lagos" has been released. The "Made in Lagos" album is said to be his fourth studio album. After all this while of waiting the album is finally out after two years of teasing and disappointing his fans by postponing the album.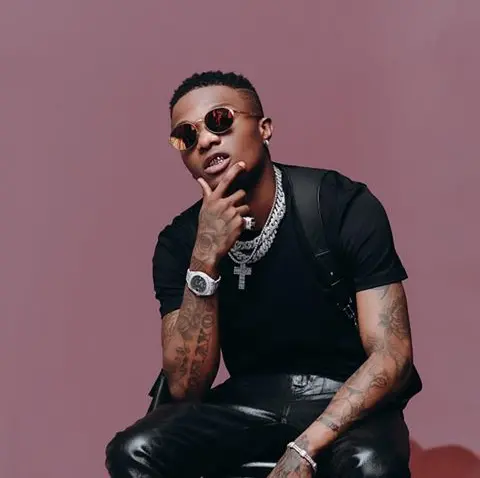 Wizkid was about to release the album on 15th October 2020, but he later postponed it due to the Endsars protest in Nigeria. He later disclosed on his Instagram and Instagram handle that the album will be released on 29th October 2020 by 11:11pm.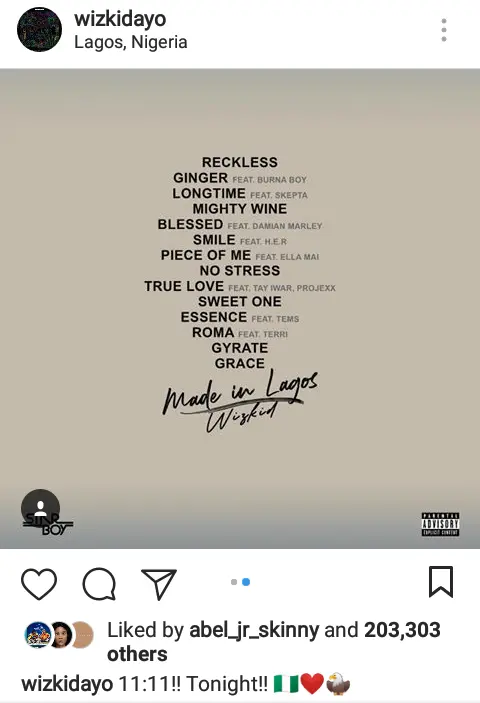 Some of the artists that are feature in Wizkid's  album "Made in Lagos" are Burna boy, Tems, Skepta, Terri, H.E.R, Damian Marley, Ella Mai, Projexx and Tay Iwar.
As disclosed by Wizkid on his Twitter handle as shown in the picture below;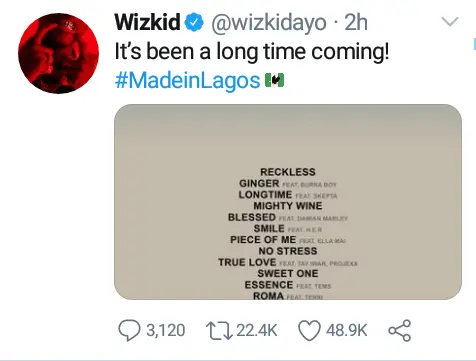 Here are the names of the tracklist of the album;
1. RECKLESS
2. GINGER feat Burna boy
3. LONGTIME feat Skepta
4. MIGHTY WINE
5. BLESSED feat Damian Marley
6. SMILE feat H.E.R.
7. PIECE OF ME feat Ella Mai
8. NO STRESS
9. TRUE LOVE feat Tay Iwar, Projexx
10. SWEET ONE
11. ESSENCE feat Tems
12. ROMA feat Terri
13. GYRATE
14. GRACE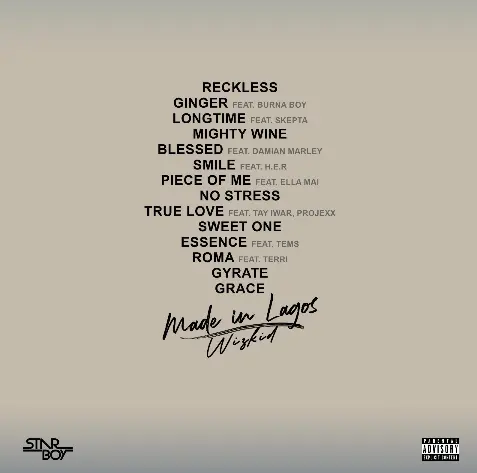 It also seems like Wizkid decided to make some changes in the album such as the album art.
Old album art.
As shown below;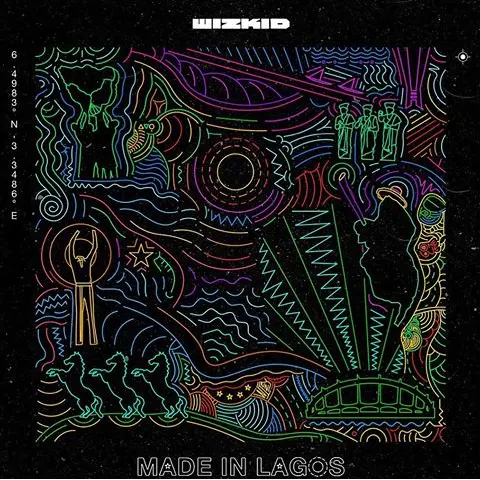 New album art.
As shown below;
Wizkid has teased this album for a long time since he and his two top counterparts in music, Davido and Burna boy also teased theirs. But only Burna boy released and now Wizkid has released his.
Billboard music awards: Post Malone grabs multiple awards.
The 2020 Billboard Music Awards went down on Wednesday night, crowning the latest round of winners. Post Malone was the night's most-nominated artist, and he came away the biggest winner with 9 total awards. Other winners include Billie Eilish, Jonas Brothers, BTS (방탄소년단), Lizzo, Khalid, and more. Kanye West won four BBMAs in the gospel categories for his 2019 album, Jesus is King.
Billboard Top Artist:
Billie Eilish
Jonas Brothers
Khalid
WINNER: Post Malone
Taylor Swift
Billboard Top New Artist:
DaBaby
WINNER: Billie Eilish
Lil Nas X
Lizzo
Roddy Ricch
Billboard Chart Achievement Award (Fan Voted):
Mariah Carey
Luke Combs
Lil Nas X
WINNER: Harry Styles
Taylor Swift
Billboard Top Male Artist:
DaBaby
Khalid
Lil Nas X
WINNER: Post Malone
Ed Sheeran
Billboard Top Female Artist:
WINNER: Billie Eilish
Ariana Grande
Halsey
Lizzo
Taylor Swift
Top Duo/Group:
BTS
Dan + Shay
WINNER: Jonas Brothers
Maroon 5
Panic! At The Disco
Top Billboard 200 Artist:
Drake
Billie Eilish
Khalid
WINNER: Post Malone
Taylor Swift
Top Hot 100 Artist:
DaBaby
Billie Eilish
Khalid
Lil Nas X
WINNER: Post Malone
Top Streaming Songs Artist:
DaBaby
Billie Eilish
Lil Nas X
WINNER: Post Malone
Travis Scott
Top Song Sales Artist:
Billie Eilish
Lil Nas X
WINNER: Lizzo
Post Malone
Taylor Swift
Top Radio Songs Artist:
WINNER: Jonas Brothers
Khalid
Lizzo
Shawn Mendes
Post Malone
Top Social Artist (Fan Voted):
WINNER: BTS
Billie Eilish
EXO
GOT7
Ariana Grande
Top Touring Artist:
Elton John
Metallica
WINNER: P!nk
The Rolling Stones
Ed Sheeran
Top R&B Artist:
Chris Brown
WINNER: Khalid
Lizzo
Summer Walker
The Weeknd
Top R&B Male Artist:
Chris Brown
WINNER: Khalid
The Weeknd
Top R&B Female Artist:
Beyoncé
Lizzo
WINNER: Summer Walker
Top R&B Tour:
B2K
Janet Jackson
WINNER: Khalid
Top Rap Artist:
DaBaby
Juice WRLD
Lil Nas X
WINNER: Post Malone
Roddy Ricch
Top Rap Male Artist:
DaBaby
Lil Nas X
WINNER: Post Malone
Top Rap Female Artist:
WINNER: Cardi B
City Girls
Megan Thee Stallion
Top Rap Tour:
Drake
WINNER: Post Malone
Travis Scott
Top Country Artist:
Kane Brown
WINNER: Luke Combs
Dan + Shay
Maren Morris
Thomas Rhett
Top Country Male Artist:
Kane Brown
WINNER: Luke Combs
Thomas Rhett
Top Country Female Artist:
WINNER: Maren Morris
Kacey Musgraves
Carrie Underwood
Top Country Duo/Group:
WINNER: Dan + Shay
Florida Georgia Line
Old Dominion
Top Country Tour:
Eric Church
Florida Georgia Line
WINNER: George Strait
Top Rock Artist:
Imagine Dragons
WINNER: Panic! At The Disco
Tame Impala
Tool
twenty one pilots
Top Rock Tour:
WINNER: Elton John
Metallica
The Rolling Stones
Top Latin Artist:
Anuel AA
WINNER: Bad Bunny
J Balvin
Ozuna
Romeo Santos
Top Dance/Electronic Artist:
Avicii
WINNER: The Chainsmokers
DJ Snake
Illenium
Marshmello
Top Christian Artist:
WINNER: Lauren Daigle
Elevation Worship
For King & Country
Hillsong United
Kanye West
Top Gospel Artist:
Kirk Franklin
Koryn Hawthorne
Tasha Cobbs Leonard
Sunday Service Choir
WINNER: Kanye West
Top Billboard 200 Album:
WINNER: Billie Eilish "When We All Fall Asleep, Where Do We Go?"
Ariana Grande "Thank U, Next"
Khalid "Free Spirit"
Post Malone "Hollywood's Bleeding"
Taylor Swift "Lover"
Top Soundtrack:
Aladdin
Descendants 3
WINNER: Frozen II
Melanie Martinez, K-12
Mötley Crüe, The Dirt
Top R&B Album:
Beyoncé, Homecoming: The Live Album
Justin Bieber, Changes
Chris Brown, Indigo
WINNER: Khalid, Free Spirit
Summer Walker, Over It
Top Rap Album:
DaBaby, Kirk
Juice WRLD, Death Race For Love
WINNER: Post Malone, Hollywood's Bleeding
Roddy Ricch, Please Excuse Me for Being Antisocial
Young Thug, So Much Fun
Top Country Album:
Kane Brown, Experiment
WINNER: Luke Combs, What You See Is What You Get
Maren Morris, Girl
Thomas Rhett, Center Point Road
Morgan Wallen, If I Know Me
Top Rock Album:
The Lumineers, III
Slipknot, We Are Not Your Kind
Tame Impala, The Slow Rush
WINNER: Tool, Fear Inoculum
Vampire Weekend, Father of the Bride
Top Latin Album:
WINNER: J Balvin & Bad Bunny, Oasis
Farruko, Gangalee
Maluma, 11:11
Romeo Santos, Utopía
Sech, Sueños
Top Dance/Electronic Album:
Avicii, Tim
The Chainsmokers, World War Joy
Illenium, Ascend
WINNER: Marshmello, Marshmello: Fortnite Extended Set
Alan Walker, Different World
Top Christian Album:
Bethel Music, Victory: Recorded Live
Casting Crowns, Only Jesus
Hillsong United, People
Skillet, Victorious
WINNER: Kanye West, Jesus is King
Top Gospel Album
Kirk Franklin, Long Live Love
Donald Lawrence & The Tri-City Singers, Goshen
William McDowell, The Cry: A Live Worship Experience
Sunday Service Choir, Jesus Is Born
WINNER: Kanye West, Jesus is King
Top Hot 100 Song:
Lewis Capaldi, "Someone You Loved"
Billie Eilish, "bad guy"
WINNER: Lil Nas X feat. Billy Ray Cyrus, "Old Town Road"
Lizzo, "Truth Hurts"
Shawn Mendes & Camila Cabello, "Señorita"
Top Streaming Song:
Chris Brown feat. Drake, "No Guidance"
Billie Eilish, "bad guy"
WINNER: Lil Nas X feat. Billy Ray Cyrus, "Old Town Road"
Lil Tecca, "Ran$om"
Post Malone & Swae Lee, "Sunflower (Spider-Man: Into the Spider-Verse)"
Top Selling Song:
Lewis Capaldi, "Someone You Loved"
Billie Eilish, "bad guy"
WINNER: Lil Nas X feat. Billy Ray Cyrus, "Old Town Road"
Lizzo, "Truth Hurts"
Blake Shelton, "God's Country"
Billboard Top Radio Song:
Lewis Capaldi, "Someone You Loved"
WINNER: Jonas Brothers, "Sucker"
Khalid, "Talk"
Lizzo, "Truth Hurts"
Ed Sheeran & Justin Bieber, "I Don't Care"
Top Collaboration (Fan Voted):
Chris Brown feat. Drake, "No Guidance"
Lil Nas X feat. Billy Ray Cyrus, "Old Town Road"
WINNER: Shawn Mendes & Camila Cabello, "Señorita"
Post Malone & Swae Lee, "Sunflower (Spider-Man: Into the Spider-Verse)"
Ed Sheeran & Justin Bieber, "I Don't Care"
Top R&B Song:
Chris Brown feat. Drake, "No Guidance"
Doja Cat & Tyga, "Juicy"
WINNER: Khalid, "Talk"
Lizzo, "Good As Hell"
The Weeknd, "Heartless"
Top Rap Song:
WINNER: Lil Nas X feat. Billy Ray Cyrus, "Old Town Road"
Lil Tecca, "Ran$om"
Lizzo, "Truth Hurts"
Post Malone & Swae Lee, "Sunflower (Spider-Man: Into the Spider-Verse)"
Post Malone, "Wow."
Billboard Top Country song:
WINNER: Dan + Shay with Justin Bieber, "10,000 Hours"
Maren Morris, "The Bones"
Old Dominion, "One Man Band"
Blake Shelton, "God's Country"
Morgan Wallen, "Whiskey Glasses"
Top Rock Song:
Imagine Dragons, "Bad Liar"
Machine Gun Kelly x Yungblud x Travis Barker, "I Think I'm Okay"
WINNER: Panic! At The Disco, "Hey Look Ma, I Made It"
Twenty One Pilots, "Chlorine"
Twenty One Pilots, "The Hype"
Billboard Top Latin Song:
Anuel AA, Daddy Yankee, Karol G, Ozuna & J Balvin, "China"
Bad Bunny & Tainy, "Callaita"
WINNER: Daddy Yankee feat. Snow, "Con Calma"
Jhay Cortez, J Balvin, & Bad Bunny, "No Me Conoce"
Sech feat. Darell, Nicky Jam, Ozuna, Anuel AA, "Otro Trago"
Billboard Top Dance/Electronic Song:
Black Eyed Peas x J Balvin, "Ritmo (Bad Boys For Life)"
WINNER: Ellie Goulding x Diplo feat. Swae Lee, "Close To Me"
Illenium & Jon Bellion, "Good Things Fall Apart"
Kygo x Whitney Houston, "Higher Love"
Marshmello feat. Chvrches, "Here With Me"
Top Christian Song:
Bethel Music, Jonathan David Helser & Melissa Helser, "Raise A Hallelujah"
Casting Crowns feat. Matthew West, "Nobody"
Lauren Daigle, "Rescue"
WINNER: For King & Country, "God Only Knows"
Kanye West, "Follow God"
Billboard Top Gospel Song:
Kirk Franklin, "Love Theory"
Kanye West, "Closed on Sunday"
WINNER: Kanye West, "Follow God"
Kanye West, "On God"
Kanye West, "Selah"