Wizkid releases his long awaited album "Made in Lagos"
Wizkid releases his long awaited album "Made in Lagos"
Ayodeji Ibrahim Balogun, known professionally as Wizkid, is a Nigerian singer and songwriter.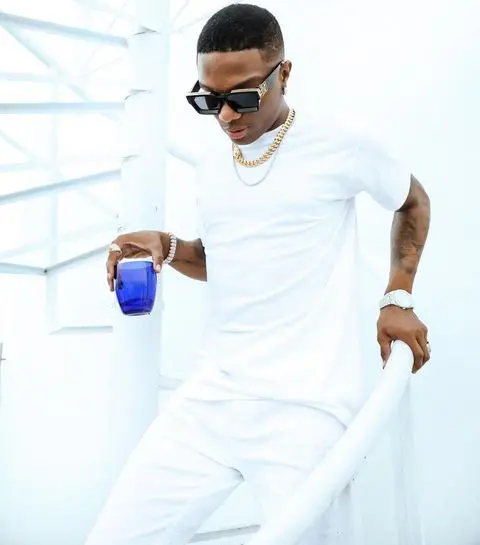 As we all knew it, Wizkid long anticipated album titled "Made in Lagos" has been released. The "Made in Lagos" album is said to be his fourth studio album. After all this while of waiting the album is finally out after two years of teasing and disappointing his fans by postponing the album.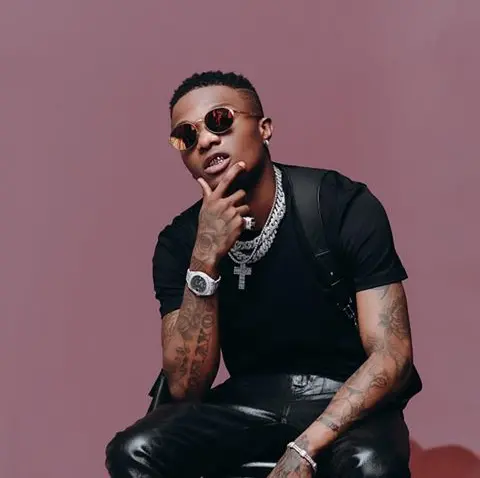 Wizkid was about to release the album on 15th October 2020, but he later postponed it due to the Endsars protest in Nigeria. He later disclosed on his Instagram and Instagram handle that the album will be released on 29th October 2020 by 11:11pm.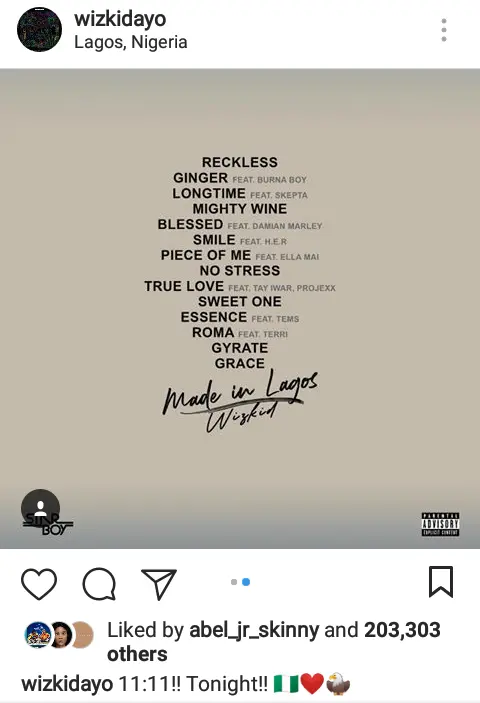 Some of the artists that are feature in Wizkid's  album "Made in Lagos" are Burna boy, Tems, Skepta, Terri, H.E.R, Damian Marley, Ella Mai, Projexx and Tay Iwar.
As disclosed by Wizkid on his Twitter handle as shown in the picture below;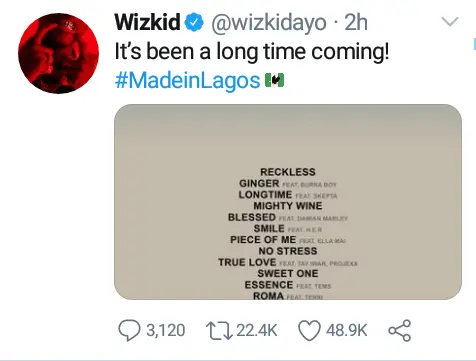 Here are the names of the tracklist of the album;
1. RECKLESS
2. GINGER feat Burna boy
3. LONGTIME feat Skepta
4. MIGHTY WINE
5. BLESSED feat Damian Marley
6. SMILE feat H.E.R.
7. PIECE OF ME feat Ella Mai
8. NO STRESS
9. TRUE LOVE feat Tay Iwar, Projexx
10. SWEET ONE
11. ESSENCE feat Tems
12. ROMA feat Terri
13. GYRATE
14. GRACE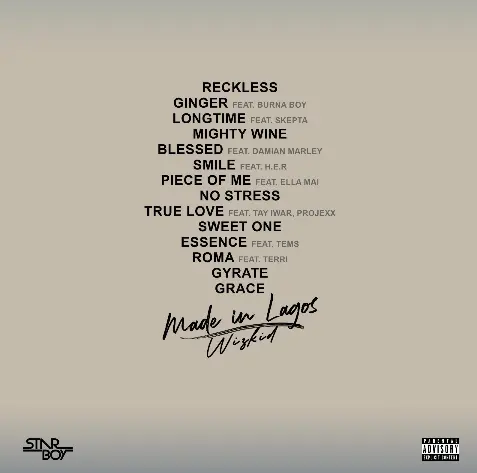 It also seems like Wizkid decided to make some changes in the album such as the album art.
Old album art.
As shown below;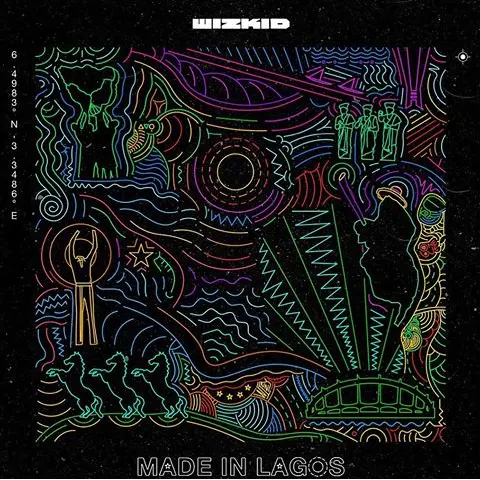 New album art.
As shown below;
Wizkid has teased this album for a long time since he and his two top counterparts in music, Davido and Burna boy also teased theirs. But only Burna boy released and now Wizkid has released his.
"This One Is For Nigeria" – Nigerian Wrestler Sesugh Uhaa(Apollo Crew) Wins WWE Title
A Nigerian-American wrestler has made the country proud in faraway America. WWE wrestler, Sesugh Uhaa also known as Apollo Crews has emerged the WWE Intercontinental Champion.
Apollo Crews, who defeated his opponent, the Big E at the just concluded WrestleMania, dedicated his new title to Nigeria, stressing that his "ancestors will now rejoice". In an interview shortly after the match, the 33-year-old wrestler whose parents hailed from Benue State, said he was proud to have defeated his opponent as earlier promised.
"It doesn't matter how it happened, what matters is that Apollo crews did what he said he was going to do and that is win. "The I beat Big E in his hometown in front of his family and everybody. "The best thing about it is that my ancestors can rejoice, and my family can dance. "I made them proud and now I am the intercontinental champion, this one is for Nigeria," he said.
The 2020 WrestleMania was the 37th annual WrestleMania professional wrestling produced by WWE for their Raw and SmackDown brand divisions. It took place as a two-night event on April 10 and 11, 2021, at Raymond James Stadium in Tampa, Florida.
SA Rapper AKA's Fiancée Nelli Tembe Dies After Jumping Off 10th Floor of Hotel Building
Nelli Tembe, the fiancée of popular South African hip hop artist, AKA, has died after she reportedly jumped out from the tenth floor of a hotel.
The incident occurred on Sunday, April 11, 2021, at the Pepperclub Hotel in Central Cape Town.
Western Cape SA Police spokesperson, Captain Fredierick van Wyk said crime-scene experts were looking for clues at the hotel.
Cape Town Central police are investigating an inquest case after an incident at a hotel this morning at about 7.45 am on the corners of Loop and Bloem streets, Cape Town CBD, where the body of a 22-year-old woman was found deceased," he said in a statement.
Witnesses at the scene described hearing shouting and a "loud doof" sound and said they had heard a man calling security and crying.
"Paramedics on the scene have said a female had allegedly jumped from the 10th floor of that building. When paramedics arrived on the scene, she had sustained polytraumatic injuries," Netcare 911 spokesperson Shawn Herbst said.
She was in a critical condition and they started a full life-support resuscitation. Unfortunately, her injuries were too severe and she was declared deceased," he added.
It would be recalled AKA and Tembe got engaged two months ago.
The music star took to his Instagram and Twitter, where he announced their engagement.
Nollywood veteran actor Bruno Iwuoha dies
Veteran Nollywood actor, Chief Bruno Obinna Iwuoha, has passed away after many months of battle with diabetes and glaucoma.
Iwuoha's close associate and filmmaker, Derik Zai confirmed the 'Sin of the Flesh' actor's death on Saturday morning.
According to multiple reports, the AMA awards recipient had been in coma at the National Hospital, Abuja for about three weeks.
He passed away on Saturday, April 10.
Iwuoha's remains had been deposited at the hospital mortuary.
The late Iwuoha featured in several movies including Magic Cap, Occultic Battle, Fire on the Mountain 2, Royal Promise and The Cross of Love, among many others.